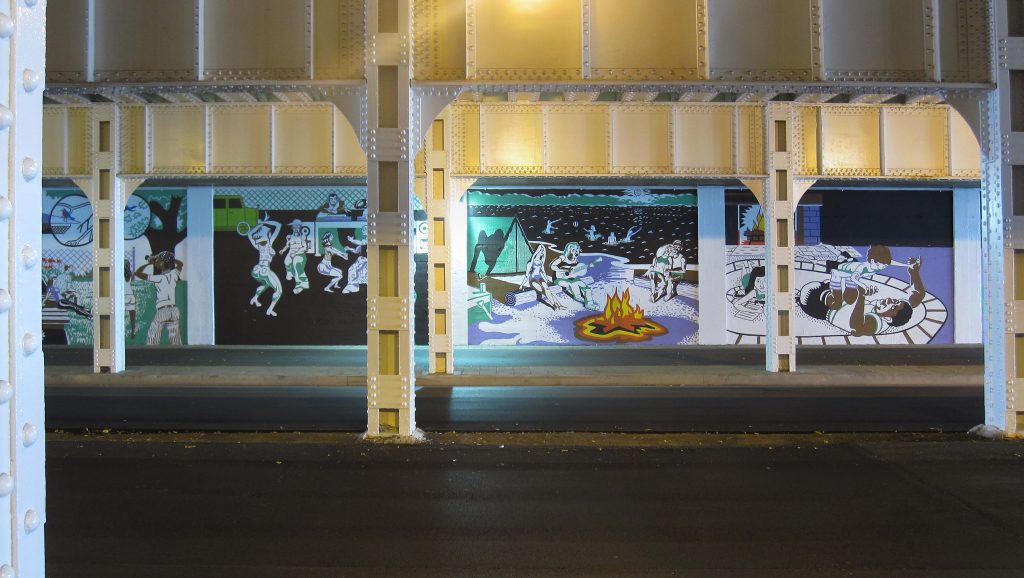 Simple Pleasures was featured in the New York Times
To begin sketching out my ideas for this mural, I thought about the length of the mural site and how it was divided into 19 sections, which allowed me to depict a lot of imagery. I decided to "Keep It Simple" by exploring various Simple Pleasures we as humans can enjoy if we choose to.
In my research for this project, I came across a couple of quotes that each expressed in their own way, what I was thinking of painting for the mural. One is by Albert Einstein, "I believe that a simple and unassuming manner of life is best for everyone, best both for the body and mind." The other is by Booker T. Washington, "There is no power on earth that can neutralize the influence of a high, simple and useful life."
The mural design depicts and celebrates a variety of simple pleasures in a modern, graphic, 19-panel mural. Exploring hobbies, pastimes, games and activities that can bring happiness, health and well-being to participants either alone and/or with friends and family, the imagery creates a reminder to slow down and enjoy the simple, precious pleasures life has to offer.
Leo Burnett the internationally renowned advertising executive has been quoted as saying, "Make it simple. Make it memorable. Make it inviting to look at. Make it fun to read." Throughout the design process, I kept these ideas in mind, while making sure that the piece reflects my ideas and style.


Click images to view larger
Mural Study for 26 for XLVI Superbowl mural project for the City of Indianapolis.
acrylic on paper
each image 8 x 10″