Delight Of Accomplishment, 2012
Recipient: City Centre Award for Preservation, 2014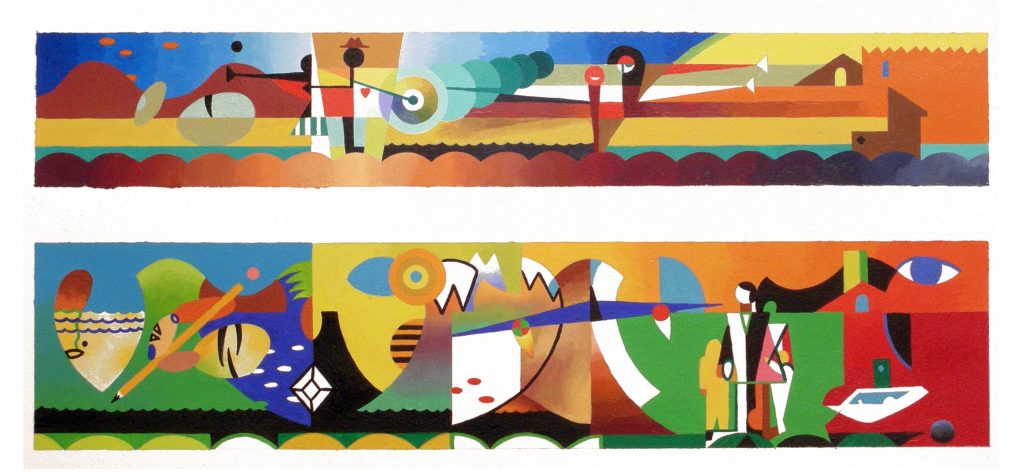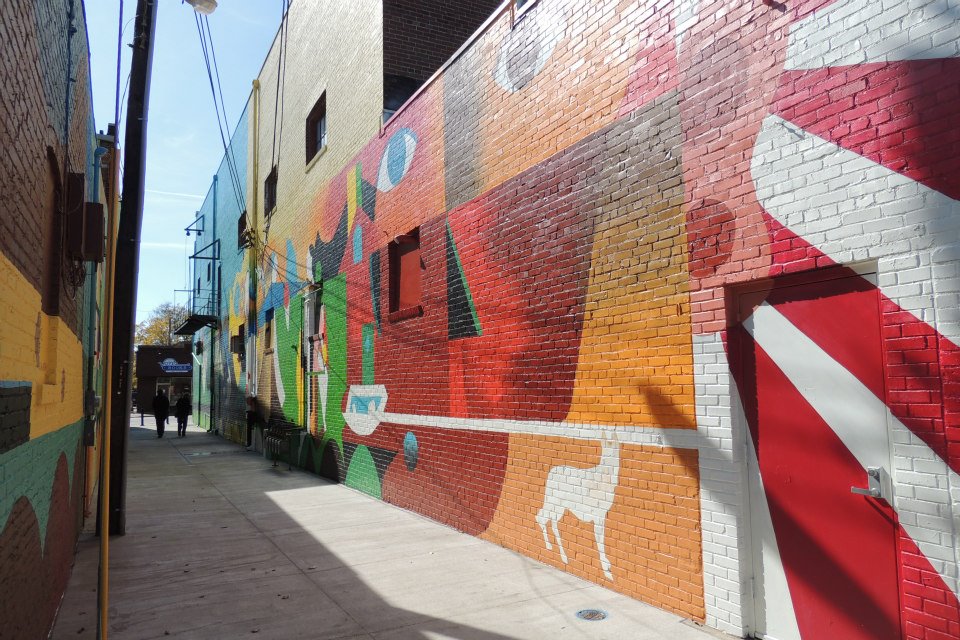 Click on images to view larger
Everyone has a dream. No matter how small or large, everyone has a dream. It is these dreams and the work we do to actualize them that fills our lives with a sense of meaning and purpose and with a sense of accomplishment. West Lafayette is an important city in the state of Indiana a place where people work to actualize their dreams. It is with this in mind that I propose this piece.
I have designed 2 long horizontal images that will be used for painted murals on both buildings on either side of the alley. The design is painted in a contemporary, semi-abstract style with recognizable elements for all to enjoy and a palette that will excite and inspire as people walk along. The large blocks of color throughout the mural design make the piece adaptable to the variation in height of the buildings as well as the poles, vents, windows, etc. along the alleyway. The idea being that both walls will be completely painted ground to roof, to give people walking through the alley the feeling that they are in a magical space.
The first (top) image makes historical references to the agrarian landscape the beginnings of West Lafayette and also the work that any person's dream demands. A person finds their place and begins to see their dreams reach fruition. Horns and symbols represent the rhythms by which we work in concert to achieve what we previously only hoped was possible. The young person puts on their hat and is joined by a partner. The home, the symbol of the great American dream, comes into view surrounded by a celebration of light. The formless is attaining form. This image will be painted on the West wall.
The second (bottom) image expresses the delight of accomplishment. What our dreams ask of us, our work has achieved. A family stands with pride, enjoying their lives and their accomplishments; they are united in their sense of achievement and the security their achievements provide. Numerous ingredients of modern life, so full of shared culture, participate in the visual display. The pencil in hand symbolizes the achievement of quality education (Purdue University) and the continuance of a person's dreams in the lives of his or her children. This image will be painted on the East wall.