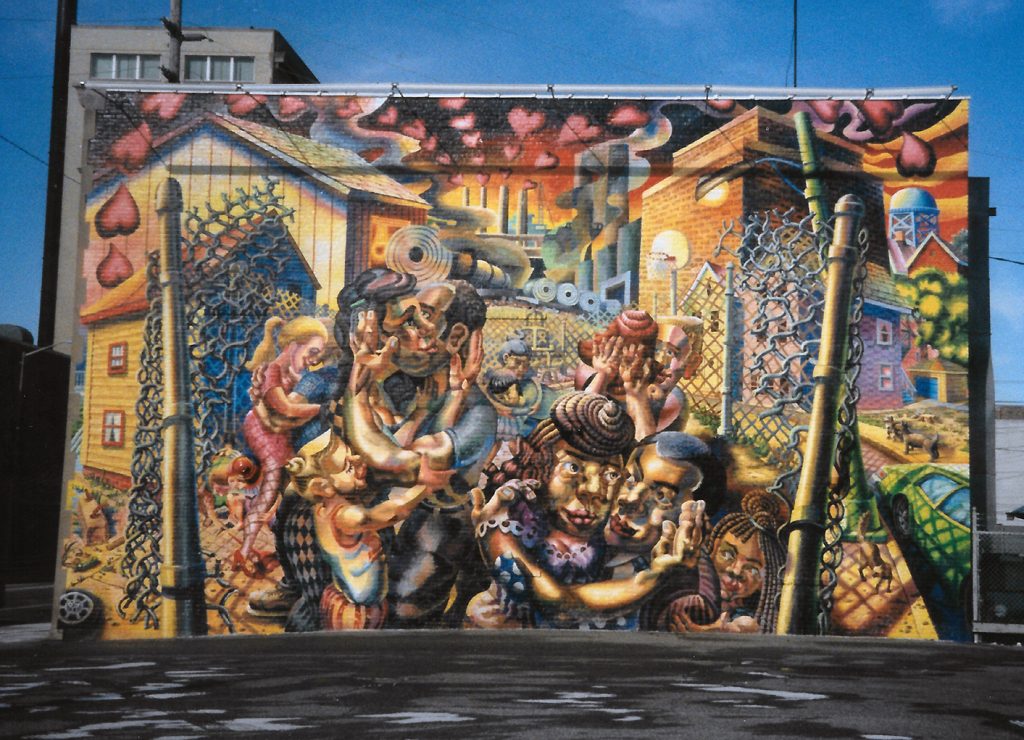 "Murals are love." Not just the love that goes into making them, but also the love – sometimes the tough love – they make to surrounding neighborhoods and cities. That's the case with Tom Torluemke's compositionally assured first mural The Hugging Wall (1998) in downtown Hammond, IN. (That it was created on an electrical substation facility only adds to the sizzling sparks!) Here in a community that needs lots of love and hugs and understanding, we see many diverse residents embrace in front of a playground wedged between industrial-area buildings, a sort-of communal civic front yard. No matter where we live, despite our fracturing social bonds and fraying economic order, despite our chain link fences, our empty factories, our weedy debris, our grating rail yards, our looming electrical towers and smokestacks–smokestacks spewing not black smoke but heart-shaped puffs–we need to believe in the power of love and faith and hope in the community and world around us, and to know that, even amidst grim living and working conditions, more unites us than divides us.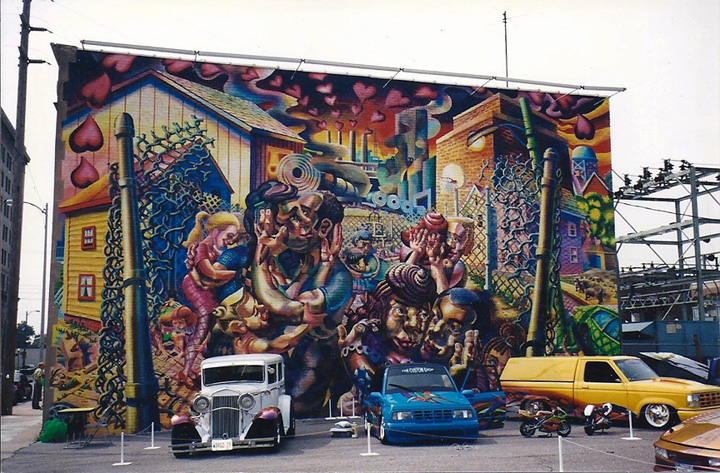 There's love in all of Torluemke's community and commissioned murals. That's not surprising: It was, after all, walls of love in a bleak city environment–walls showing love overcoming hate, walls showing racial harmony overcoming divisions–that first inspired Tom and set him on his path to creating mural art. Growing up near the Cabrini-Green public housing complex on Chicago's Near North Side, the 11-year-old recalled seeing William Walker, the famed African-American "father of the community mural movement," painting his masterwork Peace and Salvation: Wall of Understanding on the side of a five-story building on Orleans Street in 1970, with groups of people hanging out and communing in the gathering place below. Walker painted several outdoor murals in and around Cabrini-Green in the early 70s about the unity and disunity of humankind that had both a local and universal message: They indicted violence, racism, and other social ills, and like visual prayers called for peace, love, and brother/sisterhood–exhorted the community to personal and collective commitment to change.
Young Torluemke never forgot that scene: I believe it planted the seed from which his thematic concerns grew and developed. And as he once told me, he never forgot what Walker wrote (in 1971) as part of The Artists' Statement, widely regarded as the contemporary mural movement's manifesto: "People are now realizing that public art is essential because it is relevant to each of them. Art is a universal language, destroying the barriers that stand so firm before man." Added Tom, "It is this spirit that I so embody." And it is this spirit that is evident in The Hugging Wall, and that he's nobly, selflessly carried forth in all his socially relevant murals of community and universal love that followed.
Jeff Huebner, art writer + journalist